Matteo Iachino joins the Point-7 Black Team!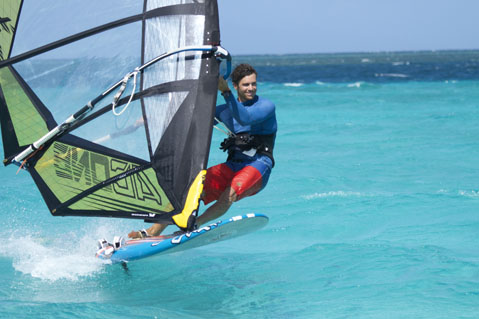 Anticipato dal video del primo dell'anno, è arrivato il momento della conferma ufficiale del passaggio di Matteo Iachino dal Fanatic/North Sails al nuovo binomio Starboard/Point-7. E' proprio la veleria di Andrea Cucchi ad annunciare l'entrata di Matteo nel blasonato Black Team.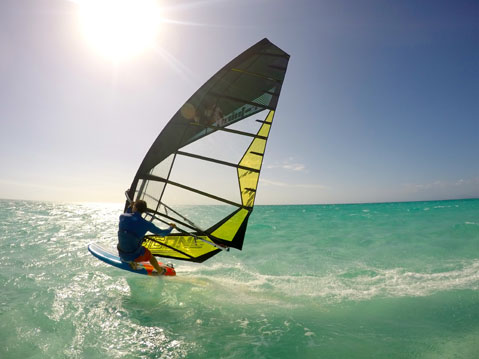 Point-7 is excited to welcome, and announce back on its Black Team, the top PWA rider Matteo Iachino. ITA-140, a rider who has put a lot of passion for windsurfing, a lot of effort in training, and took himself, in a short time, on the PWA slalom world tour podium.  Why welcome back? Let's find out directly from Team Manager, and following an interview from Matteo.
Andrea Cucchi: «I remember Matteo coming with his parents to Cagliari at the age of 17. We were in Sardinia training and testing with Point-7 that winter. They wanted to find out more about racing and how it all worked. I sat down with Matteo and explained him the basics of racing, and what he needed to do, to get the first approach to this world. He did not have a back ground of RSX or Techno class or any of those young racing experiences. He just loved windsurfing and wanted to do something more than just having fun. We helped him with a small sponsorship, and directly won his first Junior title in the Italian National Championship. I still remember that day, as I was also winning in the seniors, and we both celebrated our birthdays that event. That same year we had sponsored Alberto Menegatti who was the next champion coming up, and we could not also hold Matteo at that time, who had received a really nice offers from another brands. We always kept Matteo close even if he was using other gear as always been a great friend, being also from the same country.  Now he is back and this makes us really proud and motivated to work together. Supporting Matteo with target to improve his podium position on the PWA tour is great motivation for all of us in Point-7.
The friendship our brand has with Matteo, and that he had with Alberto, gives all of us a great feeling to work from.»
Matteo, you had a great year in 2016. First places at the PWA events and a final top 3 finish. Were you expecting that at the beginning of the year? 
Not really! My goal was to be Top 5 at the end of the year but I wouldn't expect to fight for the title and to end up the PWA world cup in 3rd position.
We have been following you from your start, and we saw you improving every year in the ranking. A constant climb. What was the key point to this climb? Experience, or working harder? 
I think both of them. Working harder gives you experience and experience gives you good results. I'm a rider who needs to be in the water every day and to train a lot to get confidence. I needed to grow and to get better in trimming my stuff, in racing, and in the past years I have put all the effort.  I had to get better and better in what I love.
Alberto Menegatti was one of the first younger riders which could attack the unbeatable Antoine Albeau. He was proving that hard work could pay off. We saw you having the sticker on your sail Riding 4 Albi.
Was Alberto positive influence to your success, how do you feel? 
Yes, he definitely was. He showed me working hard pays you back and he told me 1000 times that everybody can make it, you just need to be focused and to believe in in 100000%. He was and he still is a light to follow to get better and better.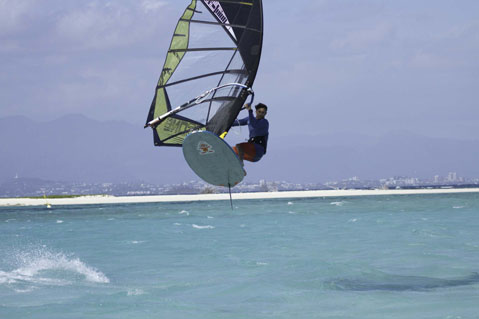 You were leading the tour till last event, but then in New Caledonia, you let the door open to Antoine and to Pierre. What went wrong? How does it feel to enter the last event of the year, being first from the overall ranking?
I had a lot of stress on me and I did a lot of mistakes because of that. Even with no mistakes I doubt I could have won… I could have been 2nd but to win is another story. It was not my moment and I was not ready for it, but I'll try to be ready soon and now I know the feeling you have while you are sitting on the highest spot.
Are you happy about the third position? 
Yes, as I just said it's more than what I was expecting and I had a great season. I won the event in Costa Brava and in Sylt. Goals I was not expecting so quick.
You had a very stressing year with no break. We saw you training in Tenerife last winter, photo shooting in Maui, racing all summer, then straight into photo shooting and testing for the new sponsors. What is the plan for the year now?
I'll try to relax a bit more and take a bit more time for me because that's one of the key to get success in any kind of thing in your life. I'll go to Tenerife for training and testing but I'm trying to plan my season better to be strong and focused all the way until the end.
How does it feel to have a black sail again in your hands?  
I'm stoked about it. I love being in this team again surrounded by friends and I'm super confident in the potential of the AC-1.
We have been visiting your home spot for testing. Offshore and very gusty. Tell us about it. Are these your favourite conditions on tour?
Not really, I love constant winds and wavy conditions, but that's what my place offers and it's actually a really good training and testing place as it's not easy at all even if is dead flat.
What does Matteo do and enjoy in his free time? 
I love traveling and I visited a lot of places with my girlfriend and when I have time I jump in the water for a relaxing surf session!!
2016. What are the goals on top of the PWA word title?
I'll try not to put any goal. I'm where I wanted to be and now I just needto put everything together and do my best in every single race I'll compete in… then we will see…